DO I NEED A FISTFUL OF DOLLARS ?

Canon EOS350D - Canon EF50mm f/1.8 - 50 mm 1.6 sec f22.0 ISO100
Intermediate level tutorial by Mark
The honest truth : yes ! Money will make your life as a car photographer a lot easier, but we can't all go to the shop and buy a top of the line camera and lenses … money doesn't grow on trees, at least not in my backyard, so unless you find yourself a nice sponsor to get started you will have to take it slow at first.
It all depends on how much money you are ready to spend … to be honest you will need a starting capital of up to US $ 5,000 to get up and running with the bare basics, anything on top of that would be nice, but anything below this figure could make things rather difficult, not impossible, but a bit more demanding on your techniques using the equipment you can buy.
So what do you really need to get started as a car photographer ?
A camera :
If you are the least but serious about photographing cars you'll need a DSLR, forget about all those compact or bridge models and go for a camera that will allow you to fit different lenses on it, this will allow you to grow into the more demanding work and fit the more expensive lenses depending on your needs and the type of car photography you will evolve into.
So let's talk makes : Canon, Nikon, Sony or another make ? Actually there is no perfect answer to this, personally I went for a Canon setup, but those other makes sure have some interesting products on the market too, just don't go for the entry level models but take your first camera from the semi-pro line up. This will ensure you don't hit the boundaries of the camera after a few months, in the Canon line up this means the EOS 7D model ($1,600), in the Nikon camp we're looking at the D300s ($ 1,700), why not a Sony A-700 ($1,300), or perhaps a Pentax K7 ($ 1,100) or the Olympus E-3 ($ 1,300) if you would like to walk away from the usual path … however the Canon EOS 7D has the highest resolution here (not always important mind you) and it also features Full HD movie which could be nice from time to time but shouldn't be a deal breaker in any way, go with the camera that feels best in your hands.
The lens :
We would advice you to steer away from the kit-lenses in the above range of camera's, they aren't bad, but with a higher initial investment your are set for a longer time when it comes to serious car photography, so save up a bit longer and get the best lens money can get … this way you don't have to sell it later on when you do get the best one anyway, we've all been there, and we all lost money over it, so our advice : get the best right from the start !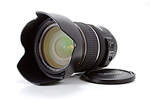 In the Canon camp you will be looking at the EF-S17-55 f2.8 IS USM ($1,100), by many seen as the very best available for Canon crop camera's (do note this magnificent lens doesn't fit the Full Frame 5D nor the professional 1D series !)
For Nikon this would mean the equally impressive 17-55 f2.8G ED-IF AF-S DX ($1,350), a rather expensive piece of glass, but worth every penny, it is tack sharp and perfect for capturing cars in the wild. For the Sony we have a small dilemma, you could go for the excellent Zeiss 16-80 f3.5-4.5 ($700), but we would prefer a 2.8 lens so here we turn to a Tamron 17-50 f2.8 XR DI-II LD ($500), also note that the latter also exists in other mounts if you want to safe some money when using a Canon or Nikon body.
Bottom line is : you will need a range of about 17mm to about 55mm and an f2.8 setting for those nice out of focus backgrounds you will be getting once experience kicks in. Don't forget to get the lens hood for those lenses that don't include it already (like the Canon for instance), sure it isn't cheap, but it will get you better results and protect the delicate front glass element to a certain extend … we don't believe in mounting UV filters simply for protection, a lens hood will be just about as effective.
The one filter you actually need :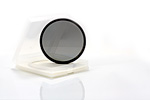 You need a good circular polarizing filter if you want to get those award winning, cover reaching car shots, don't skimp on this one either, get a top of the line Hoya or B+W filter, sure they are $100 or more, but at least they don't degrade the quality of your expensive lens, why spend so much money on the best camera and lens to ruin it with a low grade filter.
A circular polarizing filter will help you to avoid distracting reflections in the car, as we all know the bodywork of a car, especially when it has chrome bumpers will reflect the entire world in them, including yourself, using a good filter will be able to avoid these mirror images to a certain extend.
The flash :
Yep, you really need one, don't let people tell you otherwise, an external flash is worth it's weight in gold for some shots, especially interior and engine shots, only problem … they are rather expensive, especially the original ones from the bigger makes.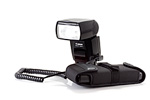 Take into account that at a certain stage you will be using this flash off-camera, so get a model that will support this easily, at Canon this would be either the 430EX II ($300) or the flagship 580EX II ($450), with Nikon we are talking about the SB-600 ($250) or their flagship, the SB-900 ($460) while for the Sony we would get either the HVL-F42AM ($300) or the more powerful HVL-F58AM ($450) … so which one should you get (depending on your camera naturally) ? Get the most powerful model available, you never have enough flash power on hand, trust us on this one, sure they are more expensive, but after using for a few months you will forget about the higher price and appreciate the extra power.
A nice extra for the Canon in this case is the fact the flash transmitter is built into the EOS 7D, so you can use full E-TTL remotely, put the flash on a small stand away from the camera and it will still 'talk' with it for the perfect exposure.
The tripod :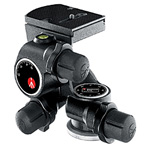 Every car photographer that's the least bit serious about his work will have a good tripod within reach when doing a shoot, there is no turning around it, you need one for those impressive shots, and again don't go for the cheapest one on the list or you'll end up buying a new one further down the road anyway.
We hate to admit it, but we've spend way too much money on various tripods before we found what we needed, a nice lightweight carbon fiber Manfrotto 055CXPRO4 ($425) with a 410 Compact Geared Head ($200), sure this is a serious amount of money, however the perfect alignment possible with a geared head just makes up for the steep price. If the tripod itself is a bit much you can also go for the standard 055XPROB ($180) from Manfrotto, do note that there are many makes out there, but we like to keep similar makes together, and since the only decent geared head came from Manfrotto we selected our 'legs' from the same company.
We're almost done now, but we still need a few bits and pieces to complete our car photography kit, things like batteries for the flash, memory cards (preferably two) for the camera and a nice bag to fit it all into would be a great idea to protect your investment, do put aside about $250 for these little items too.
Conclusion :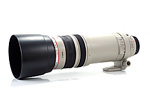 So there you have it, getting serious into car photography takes a lot of money, and we didn't even cover the telephoto lenses here, they will set you back another few thousands of dollars, the kit we've assembled here will get you started on the right foot, but keep one thing in mind : don't spend this kind of money unless you are really sure you'll be taking it to a professional level, and you have to money to spare.
Don't use your life savings to get this kind of equipment, it should be an investment into your future as an automotive photographer, not put a mortgage on the next years of your life, it is not worth it, if you don't have the money required don't go into debt to get the above material.
Naturally you could get started with an entry level DSLR and a kit-lens, but in the end you will upgrade to the type of camera we've outlined earlier in this article and get that expensive lens anyway, you could keep your first body as a backup unit (or second unit with a telephoto lens) but bottom line is that you'll end up investing much more when you count it all together, so why not go for the best in the first place ?
CPT Premium member BONUS : 48417

As a Premium Member you can download this article for easy offline reading or printing for personal use.
Note : commercial use or publishing of our tutorials in any way, written or electronic, is strictly forbidden, we present these for your personal development only. None of our material may be published in any way without prior, written permission from the Car Photography Tutorials founder. All workflows and photographs are copyright protected and owned by the Car Photography Tutorials team unless stated otherwise